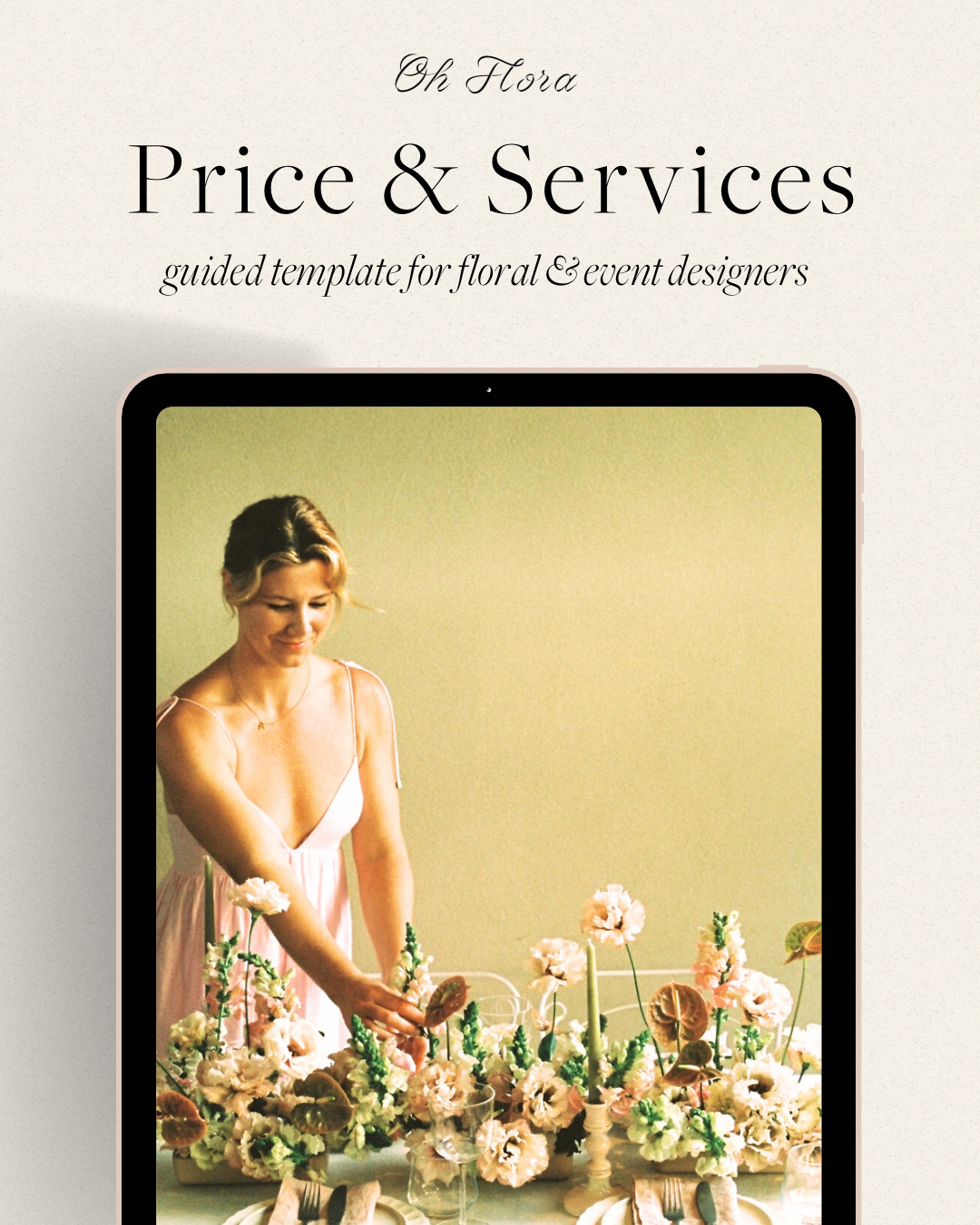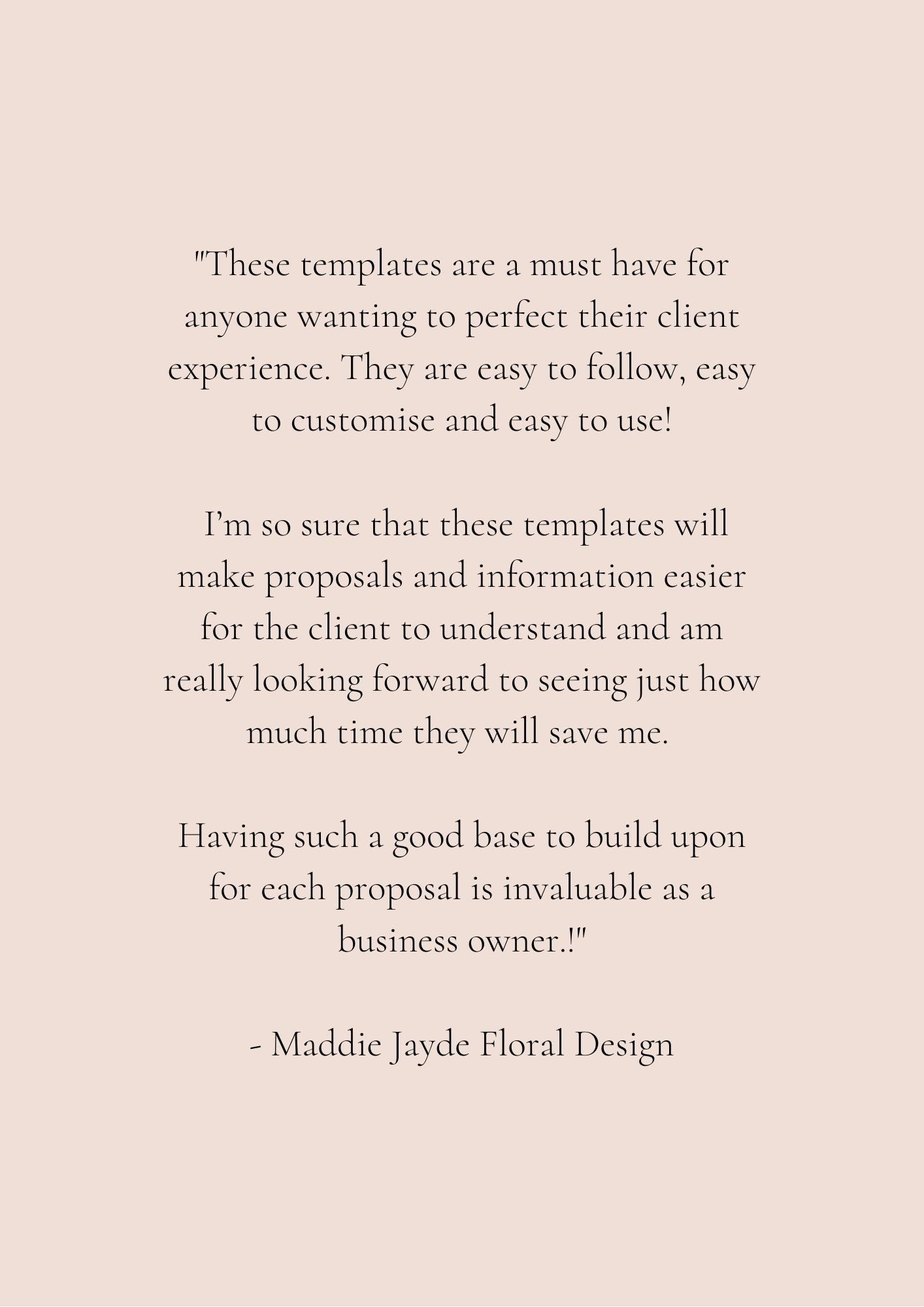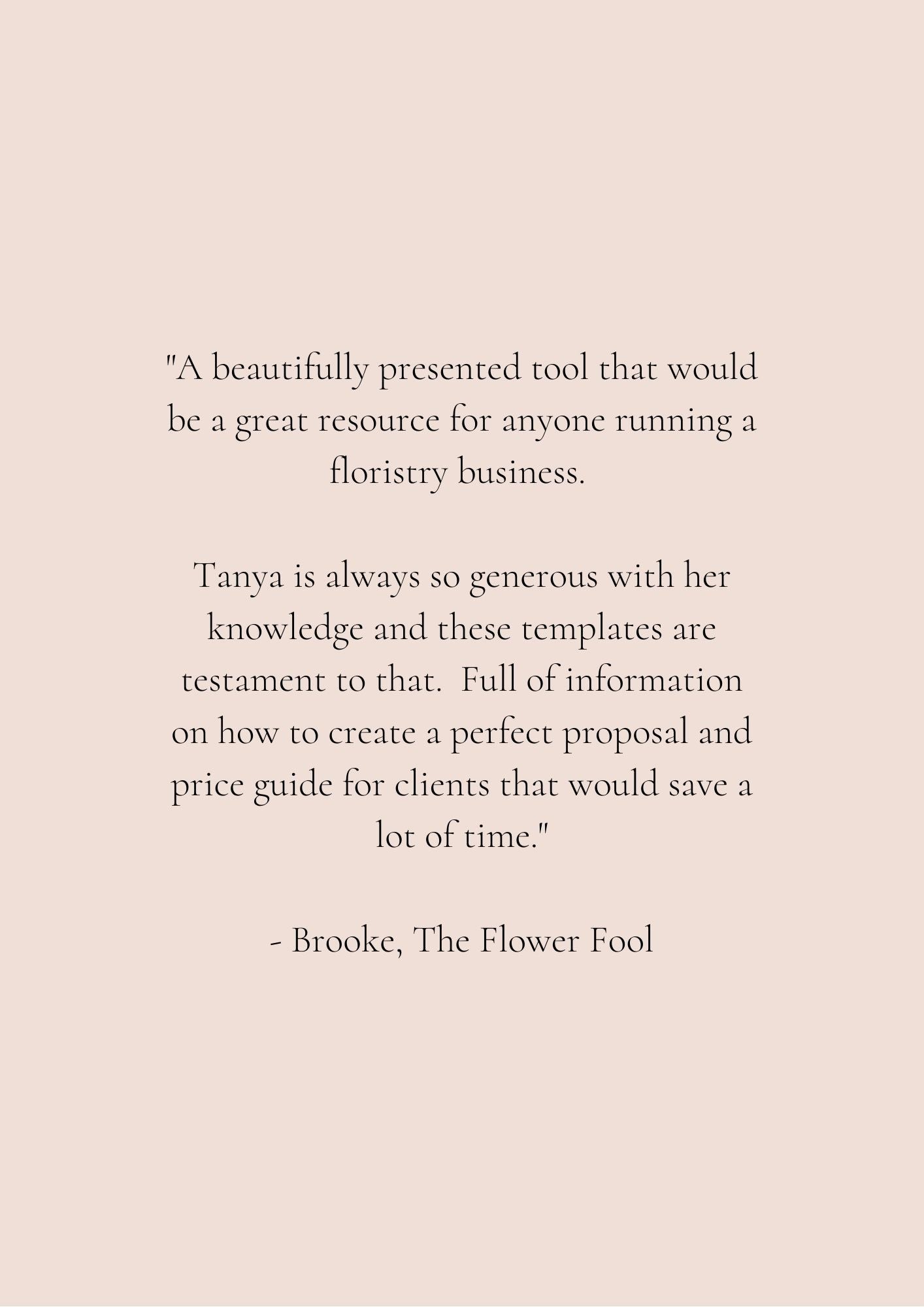 Pricing & Services Guide Template
We ship worldwide with zero plastic packaging
Designed in Australia & ethically handmade in Sri Lanka
Description
Whether you're just starting out or you need a little refresh on your client communications, we have no doubt this Pricing & Services Guide template will elevate your brand and client experience.

Designed and created by floral and event designer Tanya Shaw of Oh Flora Studio, these templates have come into fruition after years of experience and success in the wedding and event industry. 
With our show-stopping guided templates, all the hard work is done for you!
How it works:
Each page includes useful prompts and notes to help you complete and brand your own guide.  




You can replace all fonts, colours, text, layout and photos. 




You can duplicate, delete or change the order of the pages to include less or more information for each client proposal. 




This template is an example of the actual Pricing and Services Guide Oh Flora Studio uses to communicate with their wedding clients.



We have included images are in your template to help you visualise your end result. Please note that these images are the property of Oh Flora Studio or our photographers.

 

Please do not claim or use these images as your own.




This template comes in the form of a Canva file.  Canva is an incredibly useful and easy to use tool for your business.  You'll need a Canva account to use this template - if you don't have one yet, it's 100% free to create! 



You'll receive a notification whenever this template is updated!

What's included in the template:
Cover page
Welcome page 
Introduction Story page
Offerings page
Details on offerings page (1)
Details on offerings page (2)
Price guide page 
Inclusions page
Process page
Closing page
How to access:
After your purchase, you'll receive a link to your email access the template
Once you open the template and "make a copy", you will have lifetime access 

That's it!
This template does not have Oh Flora Studio's actual content of their own visual proposals (and does not include our pricing, full details on our services etc).
PLEASE NOTE:  This is a digital download product (not a physical product).
You can use this digital product to create PDF files that are downloadable and printable.  Please read the full product description before purchasing.
** REFUND POLICY FOR DIGITAL DOWNLOADS **
Please read:  Due to the instant access nature of this product, refunds are not available - no exceptions.

Please ensure you feel confident about your purchase before buying.  If you have any questions, please get in touch before purchasing.
FAQ

Q: What does "guided" mean? 
A: Our templates include images and text to help get you started on creating your own "on brand" documents to represent your business. Instead of placeholder text, Tanya has included prompts and real-life examples of what she might include or what is actually on Oh Flora Studio's Guide. These templates do not include Oh Flora Studio's real pricing or exact copy from their own guides and proposals.
Although we include the images as an example, it is required that you change these images to your own. 
Q: Can I use the photos in the template as my own/to represent my brand/business.
A: No, these are placed as examples and are intended to be changed after purchase.
Q: Is access to the template instant? 
A: Yes! Well, it might take a few minutes to hit your inbox, but you should receive your download link shortly after purchase.
If you have any issues, please contact us at store@ohflora.com.au
Q: How long can I access the download?
A: You have lifetime access! Simply access your template through the link sent your inbox soon after your purchase.  This will lead you to open Canva to access the template.  Once open, simply save the template for lifetime access.
You will also receive notifications when a template is updated! 
Q: Can I use the template offline?
A: No, you'll need an internet connection to view & edit the template.
Other questions?  Please email BEFORE PURCHASING

store@ohflora.com.au 
Disclaimer
*As each piece is individually handmade, there may be slight variations in colour, dimensions and texture.
Please note dispatch time is approximate and can not be guaranteed.  We will keep customers up to date with any changes. 
Sharing the love in Sri Lanka; a percentage of your purchase will be directly donated to Kind Hearted Lankans - an organisation dedicated to providing food, shelter, love and affection to both the young and old in Sri Lanka
Pricing & Services Guide Template